PEP® is experienced differently depending on the clients' needs. Sometimes a regimen may last several months, sometimes several weeks. We will discuss with you what the scope of your experience can be, given your time and budget. There is always a spread because true learning does not happen overnight: it takes practice. Especially in the field of productivity and efficiency it takes an individual a while to develop their own style.
However we have devised a way in which the minimum amount of time is taken up in the actual application of PEP® so that the organization loses as little productive time as possible: you are literally working while you are being coached.
Here's an example:
 A typical PEP® experience for a group of 6 people is spread over 4 steps, roughly one day every 3 weeks.  In the first day there is a 2 hour workshop, followed by individual coaching at the participants desk for 1 hour per participant in the afternoon. The second day may have the same structure while on the third and fourth days there would only be individual coaching of an hour per person. This process ensures that the participants have time to practice their new method of working and get continuous support from the PEP® Coach as they improve. This also gives time for problem areas affecting the entire group, unforeseen by management and uncovered during the program, to be addressed.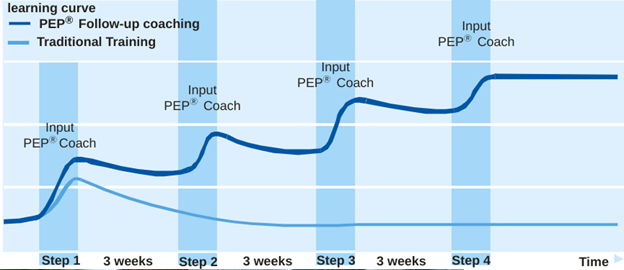 The power of PEP® and why it works so well is the personal coaching and follow ups. This ensures real change in behaviours. In the 4 Step example above, the time investment per participant is 8 hours, basically a work day but spread over a long time so disruption to operations is minimal; half of which is getting work done while being coached! The time gained per person after a 4 Step program is at least 1 hour per workday. Within a week and a half you have made up your time investment, and the rest is pure profit.  
Do you want to talk to us in person?
We are happy to discuss your problems with you at no cost and no obligation and find out exactly how we can find a solution for you. Click here to book a free consultation